2004 Donruss Elite Extra Edition Autograph RC Mitch Einertson 0503/1047
2004 SP Prospects Autograph RC Andrew Kown 368/400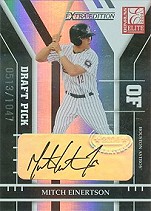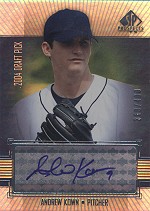 I started buying a lot less packs in the summer of 2004, but I couldn't resist trying out one pack each from two of the new draft pick filled sets of 2004. I'd say I got pretty lucky for only buying one pack of each product! I got a pack of Elite Extra from my old favorite shop, Star Cards in Salinas, CA, for Christmas. I was excited to pull an autographed rookie card, but I didn't know until later just how good it was. A few months later I needed to order some supplies from Dave and Adam's Card World, and decided to get a few packs as well, with one of them being 2004 SP Prospects. My luck continued when a nice Andrew Kown autographed rookie card popped out. I probably shouldn't buy any more packs from those two sets, because I'm sure the luck wouldn't last.

2004 Bowman Heritage Retail Hot Box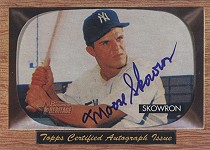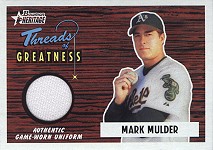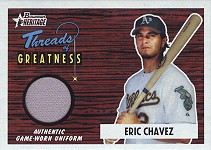 In early 2005 I grabbed a pack of 2004 Bowman Heritage while shopping at Wal-Mart, and pulled the nice Moose Skowron autograph pictured above. I was very happy because usually idiot packsearchers pull everything good from retail boxes. Since the two card shops in town have extremely weak sports selections, I've almost completely stopped buying packs. Next time I went shopping at Wal-Mart, I grabbed another pack from the same box, and pulled a jersey card! Next time I went...same thing! After pulling another jersey card from a single pack, I walked right back in and bought several more packs, pulling jersey cards out of about half of them. I ended up with one autograph and seven jersey or bat cards (Mark Mulder, Eric Chavez, Jason Giambi, Miguel Cabrera, Jim Thome, Bret Boone, and Juan Gonzalez) out of 12 packs.

2004 Topps Presidential First Pitch Stadium Seat Relics Gerald Ford


When 2004 Topps Series 2 came out, I got a $9.99 box at Wal-Mart. Gerald Ford isn't the most popular president, but it was very nice to pull a card with 1 in 592 packs odds. Plus, it booked for $40!


2003 Topps All-Time Fan Favorites
Group A Archives Autograph
Brooks Robinson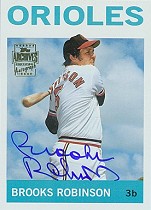 I had been buying packs of this product all year trying to pull any autograph. One day in the summer I picked out yet another pack from Target. I got home and opened it, and out popped an autograph! Wait, this wasn't just any autograph, it was Hall of Famer Brooks Robinson! Not too shabby. Then I discovered it was a Group A Autograph...only 50 made! My best baseball pull ever. I ended up trading it soon afterwards for autographed cards of Barry Zito, Mark Mulder, and Xavier Nady, plus $50 cash.

2003 Bowman Chrome
Uncirculated Gold Refractor
Felix Pie 061/170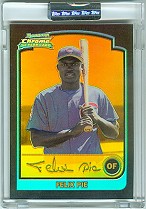 I bought a couple of packs of Bowman Chrome shortly after it came out at Wal-Mart, and pulled a Gold Refractor redemption card. I sent it in right away, hoping I would get somebody that at least booked, or an A's player. Well I got the package from Topps on September 23, opened it, and out came the best possible card I could have received...a Felix Pie RC! It booked for $120, and I sold it within 6 hours for $80. Thank you Topps!

2002 Upper Deck Prospect Premieres
Autograph XRC
B.J. Upton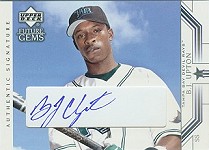 In early June, 2003 I went to Wal-Mart to buy some food. I noticed they had some packs of 2002 Bowman Draft in their "3 packs for $4" blister packs, so I picked up a couple of those. As an afterthought, I also got one with a pack of Prospect Premieres. I almost put it back while I was standing in line. Good thing I didn't, because I ended up pulling my first baseball autograph out of that pack, a B.J. Upton, one of the best cards in the set!

2002 Topps Chrome Own The Game Refractor 021/100 Marshall Faulk
2002 Topps Chrome Javon Walker RC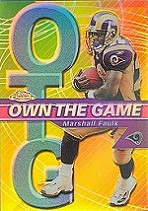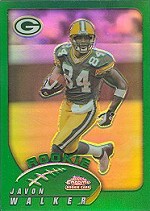 In early September 2002 I went into New Dimensions in Las Cruces to buy some supplies. I noticed that 2002 Topps Chrome football was in, so I picked up a couple packs at $3 each. The first pack yielded a nice rare Marshall Faulk insert, and the second had a Javon Walker Refractor RC. I promptly sold the Walker RC on eBay for $15, not a bad profit for a $6 purchase.

2000 Ultimate Victory Fabric Isaac Bruce
2002 Stadium Club All-Stars Game Bat 357/400 Mike Cameron
2001 Private Stock Premiere Date 74/95 Eddie George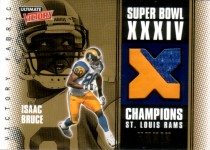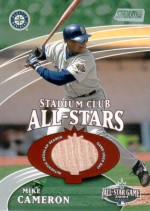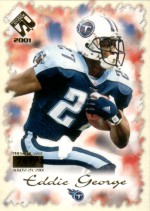 These were the best of my pulls from Christmas 2001. I picked up many cheap boxes and expensive packs for Christmas. My box of Ultimate Victory was going okay, with a couple of decent RC's, then I pulled a great Isaac Bruce jersey card with a huge piece of lettering on the swatch. The Mike Cameron game bat card came out of a single pack of Stadium Club. Not the best player I could have gotten, but a pretty tough pull. When I opened my hobby pack of 2001 Pacific Private Stock I was dissappointed that my jersey card was Bill Romanowski. However, the Eddie George Premiere Date nearly made up for the bad jersey. One of the best players that I have pulled a really low numbered card of. Definitely a better day than Christmas 2000.....you can imagine how that went, since there isn't anything on this page from that day.

2002 Topps
Like Father Like Son
Bob Boone Jersey/Aaron Boone Bat/Bret Boone Bat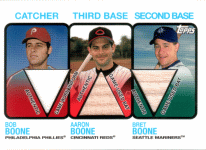 I went to K-Mart in Las Cruces, NM on December 13, 2001 because they had a "buy one get the second for 50% off" sale on their card boxes. Even though I don't like the design as much as last year's set, I picked up two 15-pack boxes of 2002 Topps Baseball. I had a couple of false alarms with this product because they have some insert cards that are very thick. Well, the thick card I got midway through the first box sure wasn't a false alarm, it was this very cool 1:2,000+ triple memorabilia card. Not too bad for my first baseball jersey card pull.

1999 Donruss Preferred Precious Metals Silver Randall Cunningham
2000 Donruss Season Stat Line Chris Chandler 15/42
1998 Pacific Platinum Blue Joe Carter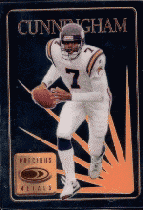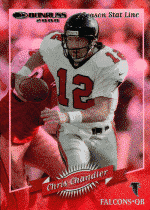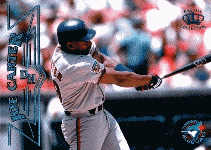 On March 11, 2001 I went to buy some boxes (20% off) at the local K-Mart in Las Cruces, New Mexico. I selected an 8-pack box of 2000 Donruss football and one of the $9.99 for 12 mixed packs boxes of baseball. I sure was surprised to get a 1:73 insert out of one of the worst packs in the baseball box, 1998 Pacific. Pacific usually made about 67 of each Platinum Blue card in all of their products, so it was a pretty nice card of Joe Carter. I wasn't expecting much from the Donruss box, as the last one I bought yielded nothing better than a $5 Kurt Warner card. This box was much better, I pulled the very rare Season Stat Line card of Chris Chandler, serial numbered 15/42! This was the second rarest card I had ever pulled from a pack. Well, at least for a couple of hours it was. After some more shopping and dinner, I went to Toys 'R' Us. No sooner had I walked in the door than a voice over the loudspeaker announced they were closing. I decided to just walk by the card display to see what they had, and quickly grabbed a $9.99 mixed box. A Precious Metals Silver (1 gram of silver encased in plastic) Randall Cunningham came out of the lone pack of 1999 Donruss Preferred QBC. Only 25 of these were made, and they are truly impossible to find, book value is $80. Quite a lucky day, three cards limited to 67 or fewer out of three cheap boxes. Hmm, maybe I should have bought some more cards.

2000 Fleer
Autographics
Frank Wycheck & Darrell Jackson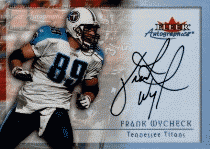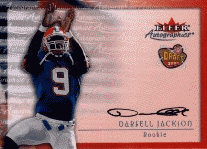 Mid-February 2001, I got one of those "12 packs for $9.99" boxes at Toys 'R' Us. Pulled these nice cards from a pack of Dominion and a pack of Ultra. I was really lucky pulling Autographics in 2000/2001. In addition to these two and the Dillon mentioned below, I got a Joe Hamilton out of a small retail box of Fleer Tradition.

2000 Fleer Tradition
Autographics Corey Dillon &
Genuine Coverage Nostalgic Dez White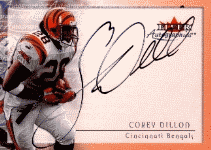 On October 22, 2000, I decided to celebrate my recent birthday by going to El Paso for a card show that was listed in Beckett. A wild Goose chase took me from one hotel to another only to find out nobody knew anything about a card show. This taught me to never trust anybody who puts on a show in El Paso (this was the second time it had happened). I was in a bad mood for quite a while, until I went to a K-Mart in a not so well-off part of town. Card boxes were 20% off, and darnit, I needed some cards! I picked out one of those $9.99 mixed boxes that looked like it had some decent packs in it, and a 23 pack box of Fleer Tradition. About halfway through the box, I saw the back of a card and knew right away it was an Autographics. I flipped it over to reveal the strangely scrawled signature of Corey Dillon, and was quite happy to not get a common or anything. That made the box for me, and I did not expect to find anything else really good. In one of the last packs, though, I spotted a very thick card stuffed in the middle. I had never pulled a jersey card before, but today was my day! What luck, pulling cards with odds of 1:192 and 1:720 in the same 23 pack box! To top it off, Corey Dillon broke the NFL single game rushing record that day. Boy am I glad there was no card show.

2000 Skybox
The Bomb Star Ruby
Kurt Warner 05/50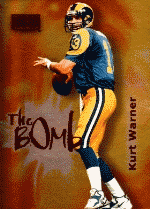 A great pull from a single pack purchased at Star Cards in Salinas, CA. Soon after Skybox came out I picked up a pack for $3.50. When I opened it I was happy to get a Kurt Warner insert. Then I noticed the foil was red, and thought, "Hmm, a Ruby?" I flipped the card over, and sure enough, it was numbered 05/50! I was quite elated to get such a rare card of the NFL MVP. It didn't book for as much as I'd have liked, but it was still a cool card to own.

1997 Metal Universe
Precious Metal Gems Green
Kordell Stewart 007/15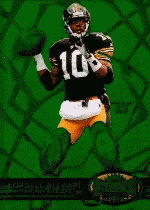 For Christmas 1999 I bought a hobby box of 1997 Metal Universe on eBay from NormanN36@aol.com for $20 delivered. I really liked how the set looked, and it was a nice price to buy a box at and try to put a set together, while hoping for maybe a nice insert or two. Well, when I opened the box on Christmas morning, boy did I get a nice insert! By far the rarest card I have ever pulled. I held on to it for a long time, hoping to find somebody who had a very rare Dilfer that I could make a deal for. That never happened, and when the opportunity to trade it to a huge Steelers fan for some very nice cards arose, I jumped at it. A card as rare as this definitely belongs with a person who will enoy it more.

1999 Stadium Club Co-Signers
Tim Couch & Peyton Manning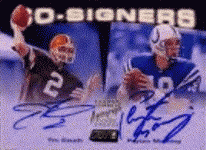 This awesome card was pulled from a single pack of Stadium Club purchased at Star Cards & Collectibles in Salinas, California on the incredibly lucky day described below. I sold it shortly afterwards on eBay for $202.50. I would have liked to have kept such a fantastic card, but come on, I'd have to be crazy to not take $200 for a couple autographs of guys that are still alive.

Fall 1999
Star Cards SuperFind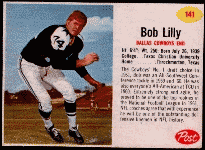 One day in late October or early November 1999, I went to Star Cards & Collectibles in Salinas, California hoping to look through their 3200-count boxes full of cards and find some commons of guys that I collect, plus maybe pick up a couple packs. I searched through the boxes for a while and took the 10 or so cards I wanted up to the register. The new manager (the shop had recently been sold) counted the cards without really looking at them and charged me 5¢ each. I asked if all the cards in those boxes were 5 cents, and he said yes. I couldn't believe it and made sure to ask, even inserts? Yes, he said, unless you find something obvious like an Elway rookie. Well, I guess he had never really looked through the boxes, or just didn't want to take the time to pull out the good stuff. I sat there for several hours looking at every single card in 5 or 6 3200-count boxes. There was a cornucopia of inserts, rookies, and stars. I ended up just picking out the cards that I knew would book for at least $1 or so. Some of the things I found were a bunch of $5 RC's and $10 inserts, including a Barry Larkin Fractal Materials limited to 100, tons of tough 1997 Flair Showcase baseball Row 0's, and the 1962 Post Bob Lilly card shown above, which was in beautiful condition. I got about 370 cards for less than $20, plus picked up a pack of Stadium Club football and a 500-count cardboard box to keep them safe for the trip home. After I got home, I looked up all the Beckett values. The cards that I had payed less than $20 for booked for a total of over $1,000! Yes, I payed 2% of book for a load of really nice cards! I still have most of them, and those that I have sold have brought me well over $100. After looking up all the prices, I opened up my pack of Stadium Club. I was amazed to find a Peyton Manning/Tim Couch Co-Signer! Definately the luckiest card day I have had, and probably the luckiest I ever will have. About $20 spent at the card shop got me over $1,400 book value in cards.
---
Home
BB Wantlist • BB Tradelist • BB RC Tradelist
Dilfer Wantlist • FB Wantlist • FB Tradelist • FB RC Tradelist
BKB Wantlist • BKB Tradelist
Hot Cards • Pack Pulls • Collection • E-Mail Richard@dilfer.com